SD-WAN: Take a good look at the outliers
Is management cutting your IT budget in 2017?
From recent conversations with UK service providers, CIOs and telco analysts, the general perception is that enterprise IT budgets will face 30% cut in their operating expenses in 2017, counter balanced by a 20% increase in innovation spending. Such budget realignments require radical rethinking and can certainly not be achieved unless ops and innovation go hand in hand.
SDN and SD-WAN into the breach
One such win-win strategy is to reduce the reliance on expensive dedicated quality-of-service (QoS) network connections like MPLS and enhance the use of cheaper access technologies. If siloed wide-area network (WAN) access modes like MPLS, dedicated leased lines, DSL and LTE mobile connections can be combined, it will increase available bandwidth. But it also must ensure QoS while lowering overall cost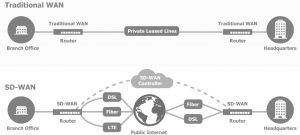 Software-defined networking (SDN) is the core WAN evolutionary concept, that gradually removes proprietary hardware constraints, and recasts hardware network capabilities as software options. SDN will allow network administrators to manage WAN network services by decoupling the control plane that decides where traffic is sent, from the underlying data plane that forwards data packets to the selected destination. With software defined access (SD-WAN) at the edges, users can already begin to reap the advantages of the emerging SDN capabilities, and with application program interfaces (APIs) they can tie functions together across different software stacks and hardware boxes.
This breaks down older telecom business models and threatens the legacy vendor-telco relationships where business critical networks rely on proprietary vendor technology operating across dedicated telco WAN connections. SD-WAN opens the market for smaller innovative players who can provide the network intelligence in customer premise equipment (CPE) at the WAN edge.
The lesser dependency on dedicated networks is accompanied by ever increasing use of 4G LTE mobile data capacity, where better coverage and dropping prices are in stark contrast to the increasing cost of landline services. This makes 4G LTE and soon 5G mobile access very important carriers of corporate data traffic.
There are obvious advantages to combining fixed and mobile WAN access streams. WAN customers should not be tied down by WAN access siloes, and be forced to use a tangle of incompatible access options: leased lines with QoS, and best effort fixed, mobile, and Internet voice and data connections. The IT department has worked for years to virtualised their data centres – now it's time to virtualise their WAN access modes.
What are the telcos doing?
Many telcos are now launching SD-WAN services, and positioning them as an on-ramp to future SDN services. However, the telco SD-WAN approach has been to salvage as much of their MPLS investment as possible by redeploying their MPLS end-point gear to multi-channel connect to their cloud services:
"BT is offering its enterprise customers SD WAN as a managed service, using Cisco routers that are already in place as MPLS network termination boxes and Cisco's IWAN technology. Customers benefit from better network performance, and insight into the performance of their applications, without having to spend more on bandwidth. The service is managed through BT's My Account portal."
However, this and similar telco offerings from Verizon and Singapore Telecom miss out on some of the intelligent end point solutions notably inclusion of any 3G and 4G LTE connections from any mobile operator, and the ability to maintain uninterrupted connectivity across all access channels. Maintaining uninterrupted sessions across multiple access modes optimises availability, cost and reliability. Remote SD- WAN devices have to be able to cleverly manage WAN links based on their availability and performance profiles which are all things that also need to be measured locally at the other end of the connection.
Look to the disruptive SD WAN players
Introducing distributed software smarts into WAN technologies is disrupting the incumbent vendor landscape in a couple of ways; new software models are emerging with vendors such as BMC that are taking advantage of applying the cloud to control commodity WAN equipment. Then there are the early market entrants such as Peplink with strong experience in access channel bonding and wireless networking. They are challenging the traditional hardware WAN sector with low cost but still powerful hardware tightly coupled with flexible software management.
So to meet the coming budget cuts in IT operations, while increasing their innovation activities, IT departments will need to step up to the SD-WAN challenge. Finding the dedicated SD WAN vendors that can demonstrate relevant vertical industry solutions that bond access channels, integrate a wide range of wireless capabilities, and maintain multi-channel connectivity seamlessly. There are interesting case studies out there already.
The post SD-WAN: Take a good look at the outliers appeared first on Quocirca Insights.