Dismantling data centre and WAN silos
Two data processing trends are joining hands and moving towards wider availability for SMEs: hyperconverged data centre infrastructures and software defined WAN (SD-WAN) connectivity. What was just a year ago a daunting deployment and management challenge has now been packaged and centralised. This allows for much easier adoption into SMEs with cloud application and enterprises with branch environments.
Both concepts have similar development drivers behind them. The data centre hyperconvergence concept originated in large cloud companies like Amazon, Facebook and Google. They placed an emphasis on low-cost, ease-of-use and rapid self-service that can link WAN-connected sites of very different sizes and capacities. They tried to use existing data centre architectures, but quickly realized that they were a poor match for their demands. They wanted a much cheaper infrastructure to run any application at any scale. That required a software defined infrastructure to break dependence on siloed hardware for additional features and upgrades. As cloud companies they wanted the agility, security and reliability of on-premises data centre that could be rolled out globally.
Trends in the data centre
Figure 1: The hyperconverged data centre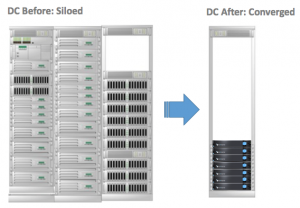 Essentially, a hyperconverged data centre reorganises the IT infrastructure. It groups multiple IT components (servers, storage devices, intranetworking equipment and software) into a single, optimized on-site computing package with IT infrastructure management, automation and orchestration. Providers like Nutanix, SimpliVity and Atlantis Computing offer the software overlay and hardware that can discover, pool and reconfigure data centre assets easily. Resources can be shared by a wider range of corporate applications, and managed using policy-driven processes. However, most converged data centres solutions still rely on external routing devices for the WAN access.
Trends in the WAN access
SD-WAN addresses the silo issues related to WAN access by optimizing use of bandwidth and reducing the complexity of network management. SD-WANs use less expensive Internet links in a logical overlay and hardware that intelligently routes traffic via multiple paths. This improves overall application performance.
The SD-WAN converges the WAN access through its ability to support hybrid deployments. Multiple WAN services such as leased lines, MPLS, Internet, cellular and satellite links are combined. The SD-WAN router optimises based on bandwidth, SLA (Service Level Agreement) classes of service, security postures, and pricing. SD-WAN products come from two different vendor groups:
–           Diversified router vendors who typically have a strong legacy of business in the carrier as well as enterprise sector, such as Cisco, Citrix, Nokia Networks and Riverbed. They have been providing traditional routers and other networking solutions. These vendors are in the process of adding SD-WAN capabilities, often through acquisitions.
–           Specialist SD-WAN router vendors who focus on providing highly available connectivity through multiple WAN, bonding and cellular routers. This group includes Talari, CradlePoint and Peplink.
Figure 2: The converged WAN connecting branches to HQ and SMEs to cloud service providers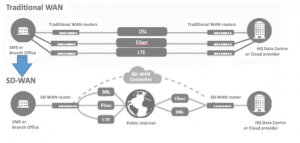 Route optimization on a packet-by-packet basis ensures that business critical applications running on the SD-WAN get the bandwidth, priority and load balancing needed. An SD-WAN router like Peplink's Balance One has the ability to detect problems and respond to session connection degradation by switching session packets to other access options. This ensures the required Quality of Services (QoS), so that critical applications don't experience loss of service. Besides the cost savings, a big driver for SD-WAN in relation to hosted cloud applications is more reliable and resilient connectivity at the branch locations.
The automated management and the real-time application performance visibility that SD-WAN delivers will require some new IT resources enabling staff to redesign, deploy and operate a new SD-WAN environment. Typically, this involves optimized TCP windowing, compression, object caching and content staging. Traffic prioritization and much lower application SLA costs are key to any purchasing of SD-WAN branch connectivity.
With branch deployments in mind SD-WAN provider Peplink has centralized "Day 2" operations management such as policy changes, adding new applications, security monitoring and image updates. In this way SD-WAN skills are developed and maintained centrally or managed by the cloud provider. Similarly, SMEs can improve WAN performance and lower their costs by deploying SD-WANs with no additional IT skills required. They can let the cloud service provider handle set-up, deployment and management.
By hyperconverging their data centre and letting their cloud provider configure the SD-WAN access, SMEs are ready to engage in big data analysis and the Internet of Things to improve their business performance.
The post Dismantling data centre and WAN silos appeared first on Quocirca Insights.