NetApp/SolidFire – a new powerhouse, or straws grasping at each other?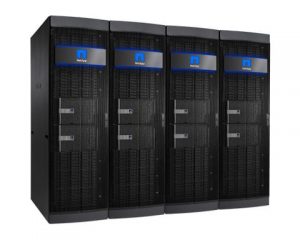 In December 2015, NetApp made its bid for SolidFire at $870m. 6 months in, with the integration of the two companies and their products still ongoing, what does the future look like for the new company?
In June 2016, SolidFire held its last analyst day as an independent company in Boulder, Colorado. With only the 'i's to dot and the 't's to cross, the SolidFire executives were in a position to talk more about the future in many areas – and NetApp also sent across a couple of their guys, including CEO George Kurian. Kurian himself has only been in position for a year, having joined NetApp from Cisco in 2011. The previous CEO, Tom Georgens, left under a cloud – NetApp revenues were in decline, and shareholders were beginning to make their feelings felt (from a high of close to $150, NetApp's shares traded at around $33 when Georgens stepped down). Although NetApp had set the cat amongst the pigeons as it pressurised the big incumbency of EMC, forcing EMC to lower its prices and become less hubristic in its approach to the market, maintaining innovation and market pressure was proving a bit of an issue.
Also, NetApp was not performing well in certain spaces – it was, along with EMC, slow to see how flash was going to take over the storage market in a rapid timescale. Although it did start to support flash, its first moves were for hybrid flash/spinning disk systems, and its first forays into all-flash arrays were – well – pretty poor. FlashRay was postponed, and when it finally made its way to market in late 2014, its prices were too high and its performance was not up to scratch. Only recently did it come to the market with a better all-flash offering based on its flagship fabric attached storage (FAS) products. However, it did, again try to be disruptive here – the starting price for its all-flash FAS8000 systems came in at $25,000. This was meant to put the new kids on the block back in their place – but many of these had already started to make a name for themselves.
Companies such as Pure Storage, Nimble, Violin, Kaminario and SolidFire were making a lot of noise – not all of it based on reality, but they were gaining the focus of attention, somewhat like NetApp did in its earlier days of taking on EMC.
SolidFire had started up in 2010 by a young David Wright, fresh from having been an engineer at GameSpy, which was acquired by IGN. Here, he became chief engineer, overseeing IGN's integration into Fox. Upon leaving, he set up Jungledisk, which was acquired by Rackspace.
NetApp's biggest problem though, was that its ONTAP software and its FAS approach were unsuited to one major sector – the burgeoning cloud provider market. It needed a system that could scale out easily in such environments – and it was pretty apparent that changing FAS to do this was not going to be easy.
Finally, NetApp decided that it needed more of a mature cloud-capable all-flash system, and decided to acquire SolidFire. This also fitted in quite well with NetApp's approach – SolidFire believes that its value lies in its software (you can buy SolidFire as a software-only system), which is also pretty much as NetApp sees itself with its ONTAP software.
Does the new company therefore bring a new force to the market, or is it a case of a once-great storage company clutching at straws?
At the event, SolidFire executives were eager to show how the SolidFire products (SolidFire will remain a brand under the NetApp business) were still moving forward. It has released the ninth version of its Element OS (Fluorine) with support for VVOLs, a new GUI, support for up to 40 storage nodes via fibre channel and increasing the IOPS limit from 300,000 per fibre channel pair to 500,000 per node or 1,000,000 per fibre channel pair.
NetApp was also keen to talk about its 15TB SSDs for its all flash FAS – these are, in fact, 15.3TB, rounded down for simplicity's sake. To round down by 300GB – a storage volume that just a year or so ago was the high end of available SSDs – is pretty impressive.
Another major discussion point was SolidFire's move to a new licencing model – FlashForward. This pulls the hardware and software aspects of the licences apart, creating some interesting usage models. For example, depreciation can be carried out at different rates: hardware depreciating over, say, three years, while software depreciates over five. New ideas can be tried out – an example provided by one of the service providers at the event was entry into a new market.
The cost of the storage hardware itself is reasonably small. Therefore, the service provider can purchase the hardware and have it delivered directly to a datacentre in the new market. It can then use the new software licence model, which is based on paying for the amount of provisioned storage, to try out the new market. If everything works out, it just continues using the hardware and software as it is. If it doesn't work out, it can stop using the hardware and roll back the software licence, saving money.
Unfortunately, SolidFire's messaging behind FlashForward left much to be desired, and the volume of questions from the analysts present showed how much work is still required to get this right.
Although SolidFire showed that it is maintaining its own momentum in the market, this does not make life that much easier for the new NetApp. It now has Element OS and ONTAP as storage software systems that it needs to pull together, as well as manage a combined sales force that will still be tempted to sell what it knows best to customers, rather than what from the combined portfolio best suits the customer.
NetApp is still struggling in the market – its last financials shows that, even allowing for the costs of SolidFire's acquisition, its underlying figures were still not strong. Kurian has stated that he expects the main turnaround to happen in 2018 – a long time for Wall Street to wait.
Meanwhile, the new Dell Technologies will be fighting in the market with hyper-converged (complete systems of server, network and storage for running total IT workloads), converged (intelligent storage systems with server components for running storage workloads) and storage-only systems, and Pure Storage may cross the chasm to become a strong player. Other incumbents, such as IBM, HDS and Fujitsu, have not been standing still and will remain strong competitors to the new NetApp.
Some of the new kids on the block, such as Violin Memory, may well leave the playing field; Kaminario, Nimble and others may have to market themselves more aggressively to get to the critical mass required – and the financial performance – to remain viable in the markets.
Overall, NetApp is still in a fragile position – SolidFire certainly adds strength to its portfolio, but Kurian has a hard job ahead of him in ensuring that this portfolio is played well in the field.