IoT in the enterprise – a pragmatic approach
There is a degree of hype surrounding the internet of things (IoT) with many wild ideas reminiscent of ideas for internet businesses during the dot com boom. Despite this, the combination of exuberant innovation and pragmatism is already paying off with some practical and tangible business benefits. However, it is important for businesses not to solely focus on the shiny nature of 'things' but to take a broader view with their digital connected strategy.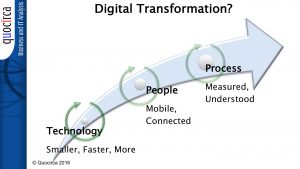 A recent event, hosted by Mitie, in conjunction with Samsung and TBS Mobility, brought together many important aspects that underpin how IoT technology and wearable devices could have a significant impact on businesses.
WIRED magazine gave presentation of current innovation in this area, which explored the potential for dramatic impact, especially for consumers. Only a couple of years ago many of the ideas would have seemed fanciful and far-fetched. All were based on current concepts ranging from working prototypes to customer ready products.
From 'consumerisation' to industrialisation
Consumerisation is important as it lays the groundwork for increased acceptance of technology in both the home and workplace. Recent Quocirca research of UK company attitudes to IoT and wearable devices ("The many guises of IoT" report) has noted a growing appetite for the use of these technologies, especially if both line of business and IT are working together.
This is something that Mitie has addressed with the application of IoT and wearable devices to aid facilities management tasks. Many of the activities involved in managing, securing and cleaning workplaces and facilities may seem straightforward. They may not appear to be obvious contenders for the use of novel technology, but there are opportunities to streamline processes.
The simple repetitive task of cleaning toilet facilities is one area being addressed and has already provided interesting results. Most people will be familiar with the signed sheets outside on the wall indicating when a facility was last cleaned, usually once per hour. But this routine approach to maintenance ignores actual usage of facilities and consequent requirements.
By use of a simple sensor monitoring 'traffic' levels, Mitie has gained an understanding of usage patterns. In the past this sort of checking might have been conducted periodically and analysed after the event to establish new working routines. Now the data can be acted upon immediately and dynamically; if the facilities have not been used, then no work is required, but if usage suddenly rises (perhaps a large meeting or event), a message is sent directly to an operative to act.
The combination of IoT with the use of devices worn by the operatives – in this case Samsung smartwatches – means that the messaging technology does not get in the way or encumber the worker. Added to this the organisation does not have to provide what would once have been much more expensive IT to its workforce. The process has been streamlined, but service levels are also improved.
Incremental investment
The idea does not need to stop there. With some external data sources and analytics, a more predictive approach could be taken. Additional sensors could be added to check the use of soap from soap dispensers and toilet paper so that intelligent replenishment schemes could be put in place. It might seem unimportant to those not directly involved, but like other areas where processes can be semi-automated, real efficiency savings can be made. In low margin services where much of the cost is people, such as facilities management, efficiency makes a big difference.
The investment cost has not been significantly high either and this indicates a great way to apply innovative technology to improve a business process:
First, identify a business problem that could benefit from incremental improvement by gathering more data or applying some level of automation.
Next, look to technologies that are becoming commoditised by consumerisation so that employee acceptance can be readily achieved and propositions can be tested quickly and deployed relatively cheaply.
Finally, measure and analyse the return to plot next steps. It might require more investment or enhancement, or even for the current concept approach to just be made more robust. However, if the returns are already demonstrable and the decisions about the next level of investment are based on valid experimentation, then the next small leap is not in the dark.
With current levels of innovation it is clear that there will be many new IoT technologies and concepts over the coming years, but businesses do not need wait. There are plenty of smart devices and sensors available to use today, and costs have already been driven down to levels that make enterprise applications worthwhile. It doesn't require special IoT magic or even a CIoTO (Chief IoT Officer), just a bit of business led thought combined with smart IT application of what's already available.